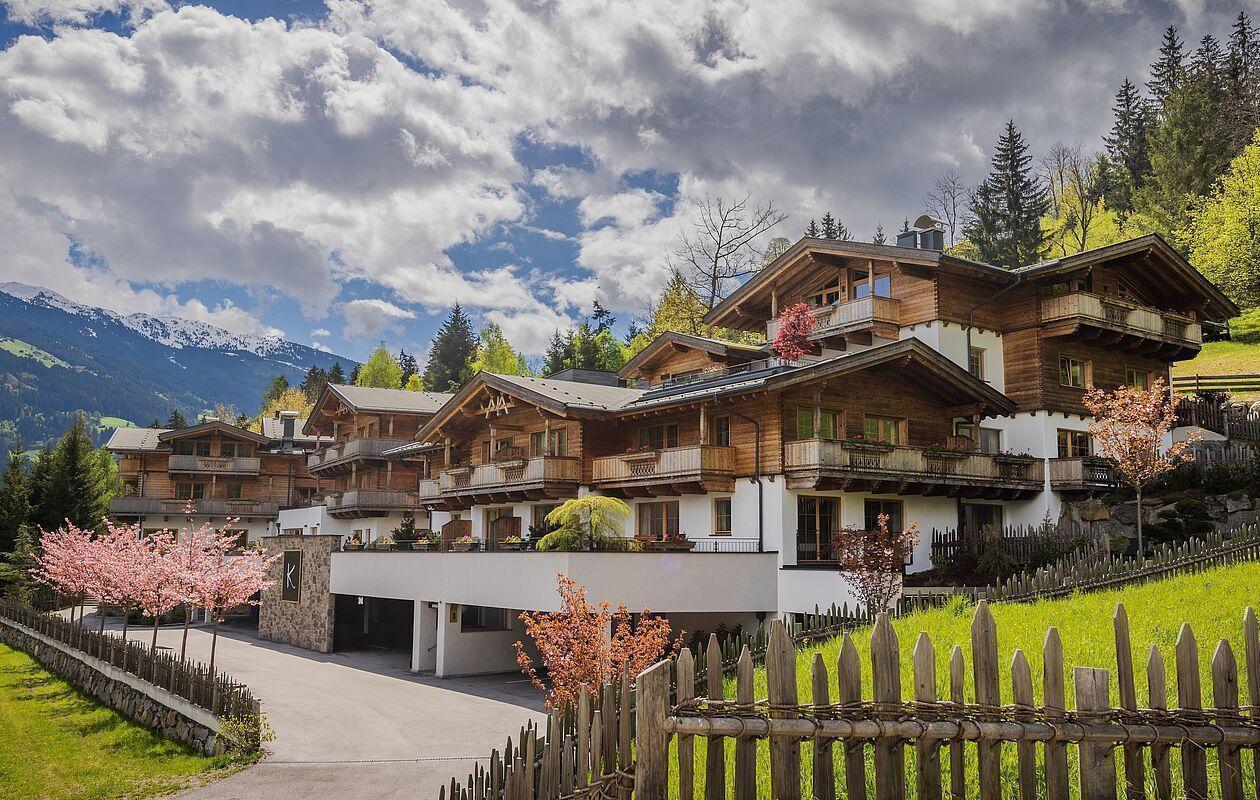 Kaltenbach with about 1,500 inhabitants is very centrally located in the middle of Zillertal at an altitude of 560 meters
About 30 kilometers east of Innsbruck the Zillertal branches off south of the Inn Valley
It is 14 kilometers from the beginning of the valley to Kaltenbach
From the state border at Kufstein it is about 50 kilometers to Kaltenbach
Where exactly is the Zillertal?
The Zillertal is located in the state of Tyrol in the Eastern Alps
It is approx. 35 km from the state border at Kufstein to the beginning of the Zillertal
Zillertal takes its name from the Ziller River, which runs from south to north and flows into the Inn
From Munich it is approximately 140 km to Kaltenbach in the Zillertal
The federal capital Vienna is approx. 450 km away, Berlin is 730 km and Zurich 340 km from the Zillertal
How do I get to Kaltenbach in the Zillertal by car?
When arriving by car from Germany via Munich (A8 and A93) to Kufstein via the border to Austria.
Leave the toll motorway (A12) at the Wiesing exit and then simply follow the Zillertal federal road B 169 to Kaltenbach (approx. 17 km from the beginning of the valley)
Toll-free arrival is possible from Kufstein on the federal road (B 171)
TIP: A toll-free arrival via Holzkirchen and the Achenpass is a very interesting alternative (in winter only if the weather is good)
From November 1st to April 15th, winter tires are mandatory in Austria in winter driving conditions. Winter tires are definitely recommended during this time.
Having the snow chains in the trunk can never hurt as a safety reserve!
Where can I park my vehicle? Are there charging stations for e-cars?
Our hotel complex has numerous covered parking spaces as an underground car park - this guarantees a cool vehicle compartment in summer and annoying ice scraping in winter!
In addition to the parking spaces in the underground car park, there are sufficient parking spaces in the outdoor area.
For all e-cars there is an e-parking zone with 4 charging stations for e-cars (wallbox) with convenient payment option via credit card and international roaming partners.
You can safely store your roof racks and trailers for mountain bikes with us during your vacation.
The passage height of the underground car park is 2.12 meters
Is traveling by train an interesting alternative?
Arriving by train is a very interesting alternative, especially in winter a stress-free and traffic jam-free journey to the Zillertal is a real option
From Munich across the state border at Kufstein to Jenbach train station as the junction for the Zillertalbahn
The Zillertalbahn runs almost every half hour to the Zillertal and the train station Kaltenbach / Stumm can be reached from Jenbach in about 30 minutes
Our free shuttle service takes you from the Kaltenbach train station to our hotel, but we ask you to inform us before you arrive!
What are the regular arrival and departure times? Can I check in earlier?
Check-in is guaranteed from 4:00 p.m. on the day of arrival
Arrival is of course possible earlier, you are welcome to use our courtesy area (suitcase depot) and spa area free of charge
Especially in the winter season, even if you arrive very early, the vital breakfast (until 10.30 a.m.) can still be booked - we ask for information beforehand
If you want to go skiing on the day of arrival, you can pick up the cards for your ski depot (located at Sport Stock) in advance from us at the hotel reception
On the day of departure, the booked room or apartment is available until 10.30 a.m. You can then use the courtesy area (suitcase depot) free of charge.
Is there a luggage room in the house?
You are welcome to leave your luggage in our secure courtesy area and luggage depot
You can also have your suitcases sent to you before your arrival - we ask you to inform us in advance
In addition to the storage space for your suitcases, there is also a shower facility
Is the courtesy area available to you free of charge on the day of arrival as part of an early check-in and also for later departure?
How long is the reception and hotel bar open?
Our reception is open from 8 a.m. to 8 p.m.
Arrivals after 8:00 p.m. are of course possible, but we kindly ask you to provide information about the planned arrival time when making your reservation
You can make yourself comfortable in our bar and lounge area with an open fireplace until 10:30 p.m.
For all football fans, we offer the soccer channels Sky and Dazn in our lounge area
Is there a restaurant in the house? Where can we go to have dinner in the evening?
No. But you don't have to suffer hunger with us. Zillertal delicacies, soups or freshly baked pizzas and tarte flambées tame your wildly growling stomach.
In addition to our partner hotel Hochzillertal (approx. 500 meters away) there are excellent restaurants and Tyrolean inns where you can fully enjoy the diversity of Tyrolean culture.
Where can I find the next doctor? Is there a pharmacy nearby?
There are several doctors in the immediate vicinity of the hotel. In addition to a medical center, Dr. Alexander Binder (general practitioner) is approximately 400 meters from the hotel.
The nearest Rupertus pharmacy is in the neighboring village of Stumm and can be easily reached in a few minutes by car
Kaltenbach has its own helipad which offers great advantages in mountain and ski accidents.
The best medical care is guaranteed in the Sportclinic Zillertal (approx. 17 km from Kaltenbach) and our district hospital Schwaz (approx. 22 km)
Where can I find the nearest supermarket and shops?
In Kaltenbach there are two supermarkets with an extensive range of groceries and branded goods: M-Preis and Braunegger (approx. 500 meters from the hotel)
There are also two butchers in Kaltenbach that offer regional meat specialties
The largest children's toy shop in the Zillertal is also located in Kaltenbach in the town center
Is there a bread service in the hotel? Is a gluten-free vital breakfast possible?
We offer a daily bread delivery service at the hotel. Fresh bread and a variety of pastries can be ordered conveniently using your own suite pad in the apartment or at the reception.
The pastries prepared regionally by our baker can then be picked up in our shop every day from 7:00 a.m.
We are also happy to offer gluten-free products and especially pastries with our vital breakfast. However, prior information (ideally before arrival) is absolutely necessary!
Is a laundry service possible in the hotel? Where can I do my laundry?
The hotel has its own laundry room with washing machine and dryer, as well as an iron and the necessary equipment (washing powder, etc.)
The laundry room is free, the washing machine is equipped with a coin-operated machine and costs € 1 per hour to use (various washing programs)
The use of the tumble dryer and iron is free of charge
Can the SPA area also be used by children and young people?
Our WaldSPA is of course also accessible to children and young people
Our infinity pool (indoor / outdoor) is heated all year round with a water temperature of 32 degrees and is perfect for the whole family
The sauna area is an adult area with restricted access from 16 years of age (nude area)
NEW! Even more luxury and privacy is guaranteed in our WaldSPA:

SKY sauna in stone pine as a textile sauna for the whole family with a magnificent view of the Zillertal mountains
Extension of the relaxation room by the swimming pool with lounge furniture and hanging chairs
Facelift of our existing infinity pool area with free frame all-glass panorama panes
New cool outdoor lounge with a fantastic view of the Tyrolean mountains