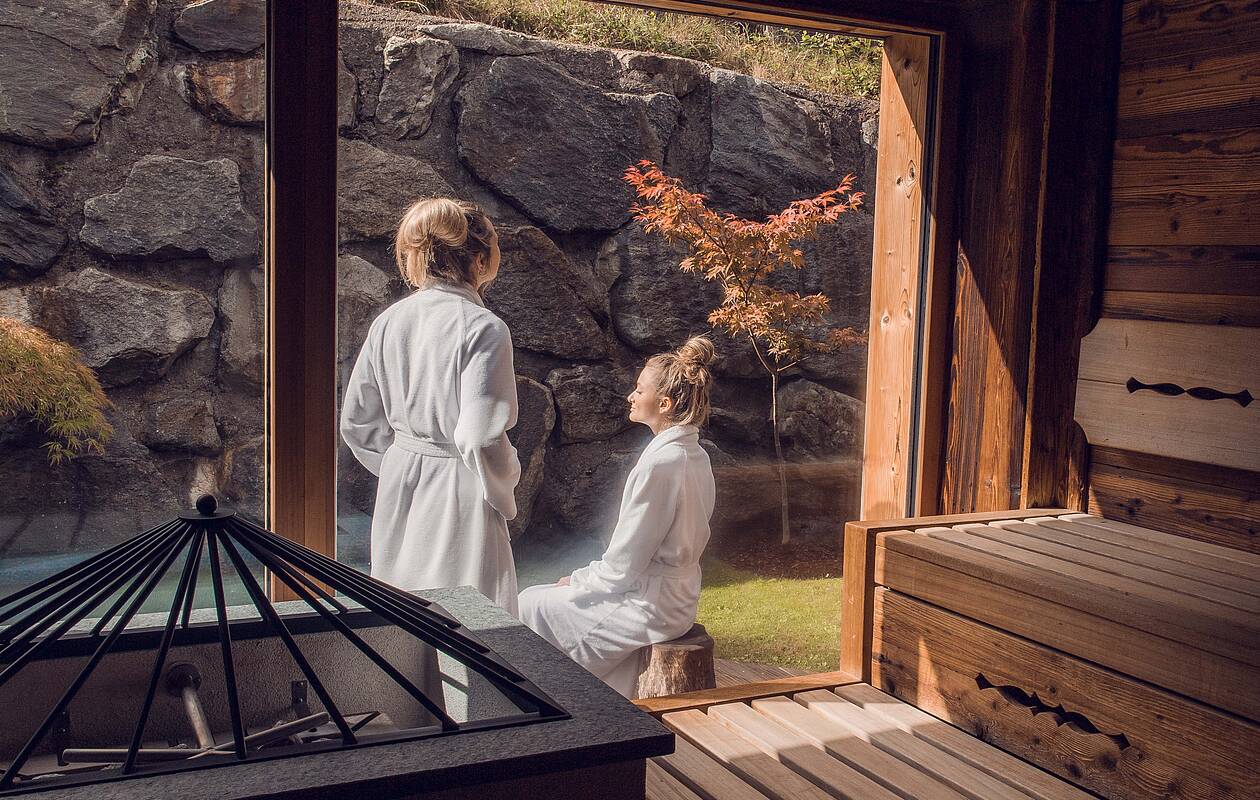 Sauna & relaxation room­
Relaxation for body and soul
After an action-packed day in the natural surroundings in Tyrol there is nothing better for your well-being than an extended trip to the sauna, or a relaxing bath for some wellness. Enjoy the harmonious architecture and the stylish furnishings.
SAUNA AREA - ADULTS SPA ONLY
Our sauna area is accessible as an Adults SPA Only (for adults from 16 years) and has:
4 saunas with alpine sauna as a Finnish sauna in old wood, organic sauna with fresh herbs, steam grotto
Infrared cabin made of pine wood from the local mountain forest
Rain shower for refreshment and pubs
Relaxation area in the sauna with lounge area and sunbathing areas
Own outdoor level as a nude area in the middle of nature on the mountain meadow & stone wall
Tea bar with many types of tea, mountain spring water, various snacks and fruit
Opening times AdultsSPA
3 p.m. to 9 p.m. all year round (in the summer season the sauna is open at 4 p.m. on warm days)
SKY SAUNA - ROOFTOP SPA AT A GLANCE
Relaxation and relaxation are absolutely guaranteed in our new rooftop sauna:
Textile sauna for the whole family with a temperature of 65 degrees
Absolute space miracle with a size of 22 m² and 3 large lying levels
Boundless views with a mega-cool view of the Zillertal mountains
Pure nature and an alpine feeling are guaranteed by the furnishings in natural stone pine
Infusion ceremony with a cozy stone pine scent fully automatically every 15 minutes
Stylish design and perfect location right next to the infinity pool and relaxation area at the rooftop
Opening times: 3 pm. to 8 pm. all year round
Sweating in the sauna increases well-being and, if used over a long period, also has a positive effect on health. In this way you can effectively prevent colds and relax all muscles at the same time.
After the sauna session in the light-flooded saunas of the WaldSPA, our guests enjoy their own relaxation area with fresh air room with seating and direct connection to the adjacent natural garden with viewing platforms and loungers to linger.
Access to the sauna area is designed for adults (from 16 years) and as an adult spa. NEW! For all families with children and teenagers, our new SKY sauna in pine wood is available as a textile sauna on the roof by the infinity pool!