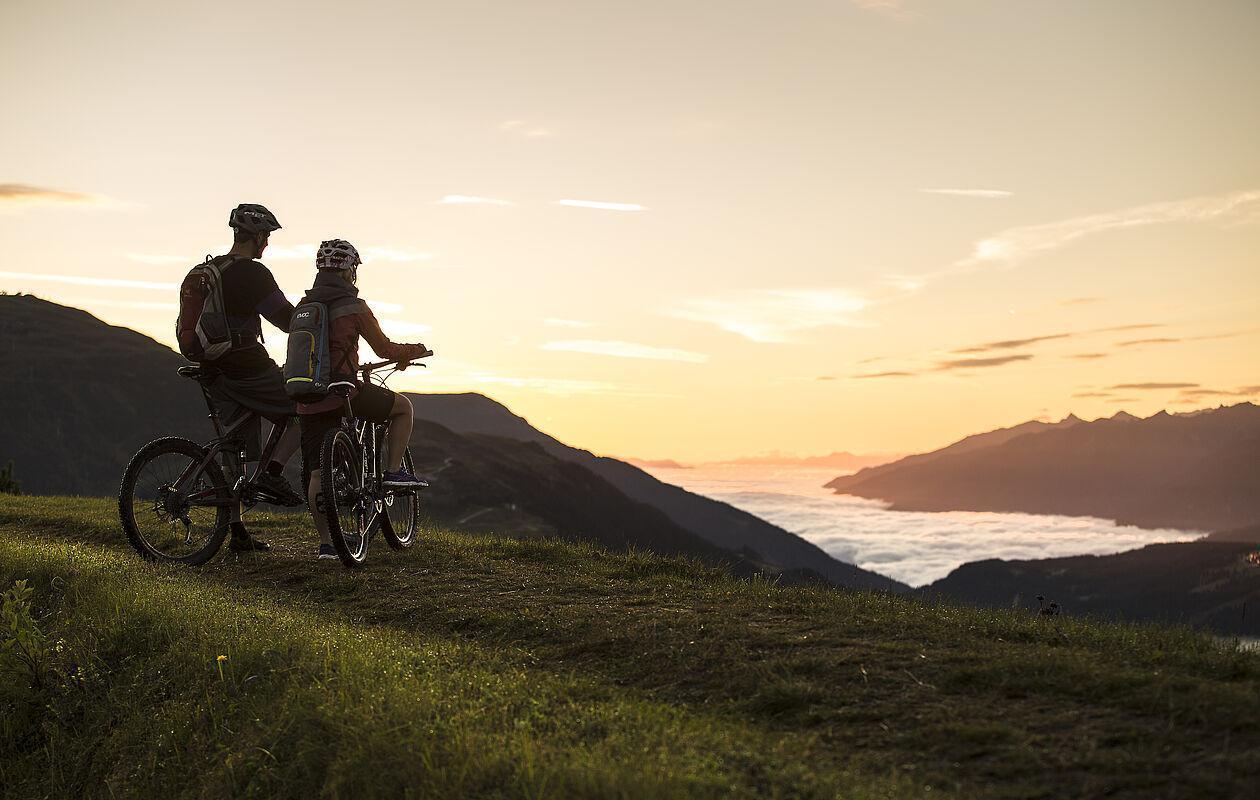 Mountain biking ­
and Road riding
Downhill, road bike riding and E-Bikes during your holiday
The Hotel Kaltenbach nestles in the heart of the Zillertal valley and therefore provides the perfect starting point for mountain-biking and road riding. We in the Hotel Kaltenbach provide our guests with the right equipment!
Cycle tours for every ability level
In just 500 metres you get to the cycle route which extends to provide a route and trail network of over 800 kilometres. From leisurely family tours to professional routes, the surrounding area has everything that sets cyclists' hearts racing. Road bike riders can also energy up the steep inclines and the switchbacks in the altitude roads in the Zillertal valley. Those of you who don't want to waste any energy by riding straight from the hotel, can transport your bikes free of charge on the cable cars and on the Zillertalbahn too. For thosewho don't want to just rely on pure muscle power, there is also the possibility to transport the bikes for free in the summer cable cars and the Zillertal Railway.
Further information about the bike possibillities in Zillertal you will find here.
In Hotel **** Kaltenbach you get everything a biker's heart desires:
High quality bicycle rental (city bikes or mountain bikes) from Corratec and free hire of helmets
High quality E-Bikes (for a fee)
Meals to go: On request we also prepare our guests a light and vital packed lunch (with surcharge)
Store for wheels (locked) with washing station
Tour suggestions and information desk at the recetpion as well as in each room or apartement on our suite pads
Device for washind and drying of cycling cloths
quality assured bike accommodation
Singletrails and Downhillroutes
The Ziller valley offers for bikelovers not only bike routes, but also varied Singltrails and Dowhillroutes. There would be something for every power stage!
Just circa 5 km away from the Apart Hotel ****Das Kaltenbach is the Zillertal Arena where you can find several Singletrails.
Apart from the Singletrail "Wiesenalm" which is perfect for beginners, you can also find four different Trails in Gerlos - Bike Trail Isskogel (Iss Tough 1-2, Iss-Vertical, Iss-Natural, Iss-Flow 1-3) whicht are situated in the middle of the amazing mountainpanorama of the Zillertal Arena.
Furthermore there are two more Singletrails in Mayrhofen-Hippach (ca. 15 km away from the Apart Hotel ****Das Kaltenbach). With a duration of two hours is the Single Trail Hundskehlgrund-Hundskehljoch marked as a black route. The Pfitscerjoch Trail, which starts from the Schlegeisspeicher (Ginzling) to the Pfitscherjochhaus is for more enjoyment.
Don't hesitate to ask us to give you advices or maps.
Come up against your limiting factors and discover the mountains with your bike.
Grid Element with DCE Fullwidth Background